ABIGAIL PENNY
Call: 1999
Inn: Middle Temple - Blackstone Entrance Exhibition Scholarship
Email: apenny@4bb.co.uk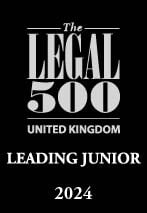 "Abigail is a formidable practitioner. She gives her all to each of her clients and there are no efforts she will not make to get the best result for them." Legal 500 2024
"Abigail is a first-class advocate. Her preparation and attention to detail is masterful. She is a formidable opponent in court." Legal 500 2023
"A very able advocate who is particularly good with vulnerable clients" Legal 500 2020
SUMMARY
Overview
Abigail Penny is a highly sought after barrister with longstanding experience of defending in heavy weight cases involving murder, armed robbery, kidnap, large scale drug conspiracies and those accused of involvement in organised crime. Over the last 2 years she been instructed to defend in many of the EncroChat based prosecutions frequently for those alleged to operate at the highest levels of organised crime. She is a committed advocate and is regularly instructed as a leading junior as part of a large team. Her work typically requires management of cases with significant complexity, that she prepares with the utmost skill and attention to detail. Many of her cases involve intricate and difficult areas of disclosure that often concern issues that impact upon public interest considerations.
She has substantial experience of "white collar" crime including representing company directors, bankrupts, long firms, "phoenix" companies and frauds against the government.
She is direct access qualified.
Her experience of defending those facing high profile allegations including:
Her appellant work includes the successful appeal against conviction in circumstances where the Crown conceded that it had failed to deal with disclosure adequately in the context of an alleged violent rape allegation see Regina v Matthew Poole [2017] EWCA Crim 208, 2017 WL 01032027.
Professional disciplinary defence work, confiscation and cash seizures.
Areas of Expertise
General Crime
Abigail Penny has a wealth of experience defending in serious and organized crime. She works through a brief quickly so as to ensure that the real issues are identified and addressed in case preparation. She is renowned for her straightforward approach with clients that puts them immediately at ease.
Encrochat
Abigail has been instructed in a large number of EncroChat based prosecutions over the last 2 years and has held instructions in some of the largest and most serious cases in the South of England. These cases have been incredibly complex from both an evidential and legal perspective:
R v JS (Kingston Crown Court 2020 – 2022) Defence of JS who admitted being the head of an Organised Crime Group after police successfully linked him to a number of EncroChat handles;
R v JSA (Woolwich Crown Court 2020 – 2022) defence of JSA who admitted being the CEO of an Organised Crime Group after police successfully linked him to a number of EncroChat handle;
R v CM (Woolwich Crown Court 2020 – 2023) defence of CM who admitted being involved in a large-scale drugs conspiracy using an EncroChat handle. The Court of Appeal reduced his sentence of 9 years to 7 ½ years after a successful Appeal Against Conviction;
R v TU (Croydon Crown Court 2020 – 2022) led by Sasha Wass KC, defence of TU who admitted being involved in a very large scale drugs conspiracy using an EncroChat handle;
R v KH (Inner London Crown Court 2020 – 2022) defence of KH who admitted being involved in large scale drugs conspiracy and using an EncroChat handle;
R v GC (Woolwich Crown Court 2020 – 2022) defence of GC who admitted being involved in a large scale drugs conspiracy and using an EncroChat handle.
Explosions
R v DS (2017) Defence of young man with autism who built a viable homemade bomb and left it on the Jubilee line train on the London Underground. DS was alleged to have developed an interest in extremism and to have built the improvised explosive device in accordance with the directions provided in an Islamic State publication. Led by Richard Carey-Hughes KC. See http://www.bbc.co.uk/news/uk-england-london-40059351
Attorney General's Reference (Nos.74, 75, 76, 77 and 78 of 2014) (R. v Cassidy) [2014] EWCA Crim 2535; [2015] 1 Cr.App.R.(S.) 30 Defence of Cassidy who pleaded guilty to explosion offences where ATM/cash machines were targeted. The Attorney-General referred the case to the Court of Appeal on the basis that the sentence passed was too lenient and it has become the leading case in this area.
R v TM and others (2016) Defence of a man accused of causing a significant number of ATM explosions in London and elsewhere as part of an organised crime group. http://www.mirror.co.uk/news/uk-news/atm-gang-who-stole-120000-9494804
Murder and other serious violence:
R v JC & 3 others (2021) Led by Annabel Darlow KC, successful defence of JC who was charged with kidnap and robbery in circumstances where the victim was subsequently stabbed to death by a co-defendant.
R v AS & 6 others (2020) Led by Sasha Wass KC, partially successful defence of AS (16 years old) who was acquitted of murder but convicted of manslaughter in the context of on-going gang violence in South London.
R v LT (2019) Led by Kieran Vaughan KC, successful defence of LT who was accused of attempting to murder Paul Allen and his daughter in a shooting. Paul Allen was convicted of the largest cash robbery in British history.
R v JHS (2018) Led by Michael Holland KC,defence of John Henry Sayers who was alleged to have ordered the drive-by shooting of a doorman in Newcastle. John Henry Sayers was a "target criminal" for the Northumbria Police and said to be the head of an Organised Crime Group. He was tried at the Central Criminal Court over 10 weeks by a protected jury who acquitted him of conspiracy to murder and conspiracy to possess a firearm with intent to endanger life.
R v OL (2016) Defendant convicted of unlawful wounding but acquitted of attempted murder, where a drug dealer was stabbed all the way through the abdomen in a "County Lines" style drug dispute.
R v JF (2016) Defence of a man who pleaded guilty to assaulting a sports journalist causing substantial brain injury http://www.itv.com/news/granada/2016-02-05/man-who-unleashed-a-cowardly-and-unprovoked-attack-which-left-journalist-fighting-for-his-life-is-jailed-for-two-years/
R v AVN (2014) Successful defence of a man accused of attempted murder where the issue was identification in a Vietnamese gangland shooting in a restaurant led by Patrick Upward KC.
R v Braithwaite [2010] EWCA Crim 1082; 2 Cr App R 18 (2010) 174 JP 387 Murder of a young man where self-defence advanced. Background of gang violence with significant issues arising in relation to the admissibility of the bad character of numerous prosecution witnesses, giving rise to the widely reported Court of Appeal judgment.
Organised Crime and Drug Offences:
R v AS and others (2021 & 2022) Leading Kevin Walsh in thedefence of AS at trial and re-trial in respect of a campaign of armed robberies on banks and cash in transit operators in and around London. https://news.sky.com/story/violent-armed-gang-members-jailed-for-more-than-100-years-after-attacking-security-guards-refilling-cash-machines-12747254
R v BC and another (2020) defence of BC who was accused of being in possession of a firearm with intent to endanger life.
R v JC and others (2019) Leading Counsel Christina Josephides in the successful defence of JC in a kidnap, false imprisonment and section 18 allegation. JC advanced duress and was acquitted. All the co-defendants were convicted.
R v MR and others (2018) successful defence of MR at the Central Criminal Court in respect of allegations of kidnap, false imprisonment and administrating a noxious substance in circumstances where the hostage alleged he had been held against his will for 9 days in various locations. https://courtnewsuk.co.uk/fugitive-kidnapped-for-150k/
R v DG and others (2017) Defended DG who pleaded guilty to "one of the UK's biggest ever cannabis operations". https://www.standard.co.uk/news/uk/gang-responsible-for-one-of-uks-biggest-ever-cannabis-operations-jailed-for-total-of-90-years-a3598131.html
R v HN (2017) Crown offered no evidence in a firearms case after Skeleton Argument served addressing the adequacy of DNA evidence.
R v CH and others (2013) & (2017) widely reported case where a chain of convenience stores were targeted by a gang with firearms. CH gave Queen's Evidence and was sentenced to 6 years' imprisonment on the basis that the starting point should have been 18 years:
http://www.mirror.co.uk/news/uk-news/armed-robber-caught-after-posing-2468718 http://www.telegraph.co.uk/news/uknews/crime/10390684/Cartoon-pyjamas-gave-away-armed-gang.html
When CH was released in 2017 he committed further armed robberies http://news.met.police.uk/news/two-men-jailed-for-attempted-post-office-armed-robbery-258398
R v NS (2015) Defence of NS who was alleged to be the head of a conspiracy to supply 30kg of 90% pure cocaine. https://www.standard.co.uk/news/crime/drug-dealers-jailed-for-more-than-40-years-after-police-find-63million-of-cocaine-10424970.html
R v GW and others (2014 – 5) Defence of a man accused by the NCA of large-scale importation of drugs as part of an alleged organised crime group. https://www.theguardian.com/uk-news/2015/dec/07/gatwick-baggage-handler-jailed-drug-smuggling
Serious Sexual Offences
Abigail Penny has substantial experience of defending serious and complex sexual allegations. Her work in this area is informed by the dangers of inadequate disclosure and she is deft at ensuring that all material that is capable of assisting the defence is obtained from the Crown. Her caseload in this area often involves consideration of telephone evidence and records held by third parties.
R v AM (2021) Leading Christina Josephides,successful defence ofAM who was accused of raping 2 women and sexually abusing a child in the context of complex ongoing proceedings in the Family Court.
R v JH (2017) Successful defence of a step-father accused of abusing his step-daughter.
R v PP (2016) Successful defence of a man accused of raping his Botox nurse in the street. http://www.mirror.co.uk/3am/celebrity-news/katie-prices-stepdad-found-not-9373454
White Collar Crime and Fraud
Abigail Penny has prosecuted and defended complex allegations of fraud. She has been an approved prosecutor for the Crown Prosecution Service Fraud panel, but principally defends those accused of white collar crime.
R v SG (2019) Acting for the Department of Business, Skills and Enterprise, secured convictions in circumstances where the defendant had made business to business claims for a Growth Voucher Scheme fraudulently.
R v SS (2013) Deputy Official Receiver of Croydon convicted of breach of trust fraud. http://squaremilenews.blogspot.co.uk/2012/12/bankruptcy-deputy-jailed-for-stealing.html
R v CR (2012) Accountant convicted of substantial breach of trust fraud in the context of phoenix companies. Case concerned unwritten agreements/work culture, careful consideration of banking evidence and the relevance of the importance of the employee to the business structure.
R v Leon Dussard (2009) Bank Clerk defended in a banking fraud and money laundering enterprise where money eventually laundered in a bureau de change and sent to Cyprus. Sentence of 30 months reduced to 15 months by Court of Appeal Regina v Payaspyrou and Leon Dussard [2009] EWCA Crim 1065.
R v PS and another (2008) Prosecuted by Queen's Counsel and a junior in the successful defence of a Company Director who was alleged to have signed a statement that was used in the High Court in an effort to defeat a bankruptcy petition. Case existed in the context of a large-scale fraud.
R v A-D & Others (2007) Leading Junior in the successful defence of high value mortgage and benefit fraud trial. Case included direct challenge to the standard forms of the claim and the relevant definitions.
Appointments
CPS Prosecutor Grade 3
Pupil Supervisor
Professional Memberships
Criminal Bar Association
Howard League for Penal Reform
Academic Background
University of Wales, 2:1 English Literature 1995
Common Professional Examination 1998
Inns of Court School of Law 1999
Awards
Blackstone Entrance Exhibition from Middle Temple
Recognised by the Legal 500 as a Leading Junior 2019 - 2024